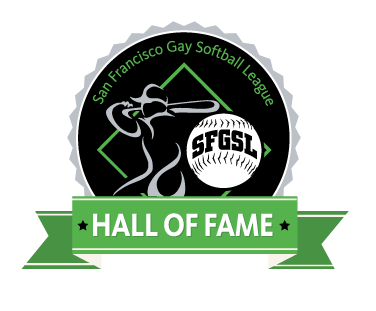 The Hall of Fame recognizes and honors members who have made significant contributions to the SFGSL. The annual inductees are nominated by the membership and announced at the End of Season Banquet.
2016
John Christophel
Adela Dominquez
Robert Martinez
Anthony Robbins
2015
Charles Bareras
Mike Etchvereyand
Gordon Manings
Lee Rankin
2012
Pat Conlon
2010
Tommy Lee Sherck
2008
Mike Gray
2002
Rick Brattin
Bobby Docca
Dave Gilliam
2001
Glenn Burke
Steve Sternfeld
Tom Vindeed
1998
Rick Ritt
1997
Mark Brown
Everett Hedrick
Jack "Irene" McGowan
Please help me find the years of past award winners.  Please email secretary@sfgsl.org.

| | | |
| --- | --- | --- |
| Kevin Ahart | Donna Jane Fonda | Bill Pielock |
| Fred "Andy" Anderson | Vincent Fuqua | John Richards |
| Karen Borawski |   | Bruce Rockel |
| Rick Bowlby | Lew Gilmore | Steven "Skip" Schaeffer |
|  Kathy Clinton | Maureen Hogan | Mark Schultz |
|  Hydie Downard | Tim Jones | Bobby Solomon |
|  Bernadette Escue | Rich Law | Rikki Streicher |
|  Matt Florio | Fred Lessley | Danny Sullivan |
|   | Clay Maxwell | Moi Tualaulelei |
|   | Francis Medeiros  | Maggie Weis   |
|   |  Linda Pancost |   |
|   |  Kenny Patterson |   |
|   |   |   |