Golden State Warriors LGBTQ+ Night 2021 · Any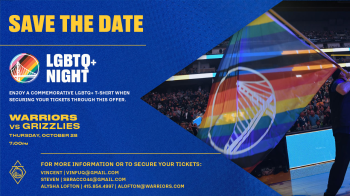 Golden State Warriors LGBTQ+ Night 2021 at Chase Center:

Warriors LGBTQ+ Night is Thursday, October 28th vs the Memphis Grizzlies at 7 p.m.
SFGSL has secured $55/ticket Upper-Level seats for our group. Special event ticket includes a commemorative LGBTQ+ Night t-shirt.

Tickets will be distributed via email ahead of the game.

A portion of the proceeds benefits SFGSL.
Please read the Warriors Covid-19 Guidelines:
San Francisco Mandate Requires Fans 12 and Older to Show Proof of COVID-19 Vaccination to Attend Indoor Events at Chase Center.

The Warriors and Chase Center will comply with this guideline. Consistent with the health order of the San Francisco Department of Public Health, proof of a negative COVID-19 test will no longer serve as an accepted health pass for fans 12 and older to enter Chase Center.